AC Adapter
The AC adaptor is designed with a wide voltage range(100-240 V), for global versatility. The adaptor is for indoor use only. Exceeding its specified voltage range can damage the adaptor or device and result in an electric shock accident.
Disconnect the power plug immediately after the charging is completed.
Note: The device cannot power-on when it is being charged by the AC adaptor.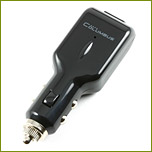 Car Charger
The car charger can work with the 12-24V car cigarette lighter socket. It can be only used for the device. Using it for any other purpose can damage the car charger and other devices.
The car charger can work with the charging cable to automatically start up and shut down the device and charge it.
Charging Cable
The cable can work with the car charger for auto ON/OFF and standard charging. The device turns on as soon as the vehicle is started and the power supplies to the car cigarette lighter socket, and turns off as soon as the vehicle is shut down and the power supply is disconnected. Thus, the device is automatically turned on or off together with the vehicle. The cable is not for data transmission purpose.
USB MicroSD Reader
The reader works with a MicroSD card carrying log data and allows you to access, delete, or copy data at a high speed or format the card through a USB port on your computer.